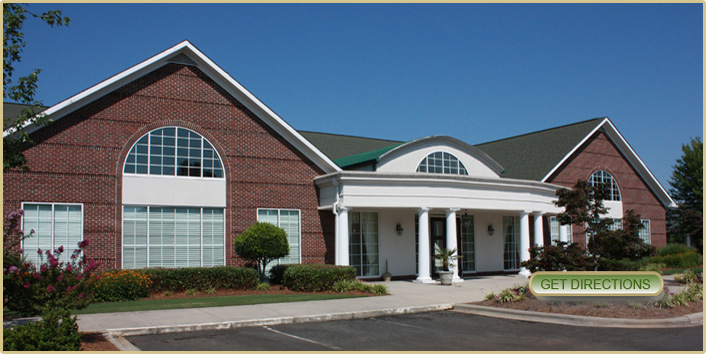 Greene Funeral Home Northwest Chapel is located at 2133 Ebenezer Road. This facility is the largest in York County and one of the largest in the upstate, totaling 13,752 square feet.
This handicapped accessible facility was designed to accommodate larger numbers of people attending visitations and services. The front entrance enters into the gallery which flows into a 14′ wide central hallway and extends throughout the middle of the building to the rear entrance. In the center of the hallway is the Great Hall, a 24′ x 24′ area with ceilings of 20′, which is accessible from each of the four visitation rooms. The four spacious visitation rooms are decorated with floral themes, and are named the Camelia Room, the Garden Room, the Palm Room, and the Magnolia Room. The Magnolia Room is the largest visitation room, and is close to 1,000 square feet in size. Since most of the parking is in the rear of the building, there is a covered portico in the rear for people to use in inclement weather.
The columned doorway on the eastern side of the building is the entrance into the reception/arrangement area. A green marble fireplace is framed by hardwood oak floors and serves as the entrance into the reception and waiting areas. Office space for funeral directors and two arrangement offices are located in this side of the building as well as the casket selection and cremation option rooms. A floral delivery area is also located on the eastern side of the building to allow for floral delivery drop-off.
On the western side of the building is the chapel which is noted by the side portico which is used for funeral procession parking. The entrance or narthex of the chapel is located in the rear of the building with easy access from the rear parking lot. The 265 seat chapel has been designed to provide those in attendance with a feeling of intimacy as the seating extends the width of the building and surrounds the pulpit area. A pastor's study is available for clergy to use as needed. A family lounge with a children's area is available to those attending the funeral service or visitation.